Madden NFL 18 Nov.21 Updates Game Styles
EA Sports announced Madden NFL 18 Nov. 21 title update, stressed the update is a big issue that different from minor tweaks. After viewed the list of the improvements & tweaks, you will believe that's really a big deal. The update includes aspects from graphics to mechanisms, deserved to be a title update. It seems that in order to make sure the Madden franchise is the best American football simulation video game in the world, EA's gone all out for the game to ensure that, even if there's adversary for the series.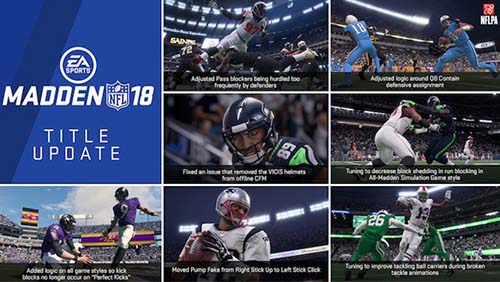 Title Updates:
1. Add logic on all Game Styles to prevent kick blocks on Perfect Kicks.
2. Now pass blockers won't always be hurdled by defenders.
3. Removed the VICIS helmets from offline UEFA Certificate in Football Management
4. Pump Fake has been moved from Right Stick Up to Left Stick Click.
5. Tweaked block shedding and tackling ball carriers
Click to view previous Madden NFL 18 News & Guides!
Details:
Gameplay – Perfect kicks must be at 100% accuracy meter. Change the QB's rushing logic. Addressed some TE's glitch. Improved the CPU-controlled players' performance, now they're more like human player than rigid algorithm derivatives. Decrease the "nearby player penalty" for defenders attempting to catch interceptions.
Franchise Mode – Improve the stability of gaming and the Weekly Training drills issues. Tweaked the logic of injured players.
Ultimate Team – Now you can set the times that you can complete a set. Add a timer to display the time remaining time of the set. Change the looking of chemistry label.
Buy cheap Madden NFL 18 Coins
on Eanflcoins.com to enjoy the new Madden 18.