NFL 17 Wild Card Weekend ratings change after two week layoff
Recently NFL 17 has been busy with the NFL playoffs. The standard season has wrapped up and the Superbowl is coming soon. So it's time for the Wild Card Round of the NFL Playoffs. And after the Super Bowl championship and the prestige, everything will go on normal. EA Sports returns after a two week break to release its latest player rating updates for Madden NFL 17 . With the two week layoff, major changes were seen among some of the biggest names in the NFL.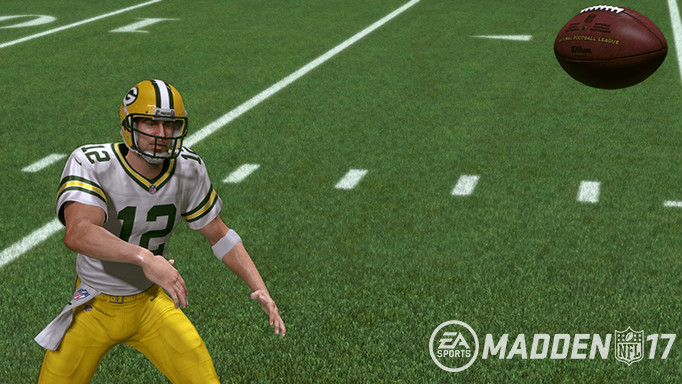 Damon Harrison, DT, New York Giants (up four points to 88 Overall)
The man nicknamed "Snacks," Harrison is proving his value after signing a five-year, $46.2 million contract with the Giants in the offseason. Harrison is a space clogger with his 350-pound frame and as the season went on, Harrison 's play got better. He finished with 86 tackles and 2.5 sacks and was named to the NFL All-Pro team.
In regards to Madden , Harrison saw his block shedding rating go up to 93 and his finesse move rating jump 13 points to 68. Harrison plays a very specific role where he is only really a two-down defensive lineman, but when he is in, his impact is felt. He fills a major need for a defense in Madden , especially for a team that plays a 3-4 defense that needs a gap filling defensive tackle. Harrison is worth picking up.
Aaron Rodgers, QB, Green Bay Packers (up 2 points to 96 Overall)
Rodgers is still living off of his Nostradamus-esque prediction of the Packers winning their final six games and winning the NFC North to make the playoffs. Rodgers saved his best game for last in the regular-season finale against Detroit where Rodgers threw for 300 yards and four touchdowns. They will face the New York Giants in their Wild Card game on Sunday.
Rodgers saw an increase in awareness, speed, acceleration and short throw accuracy. Rodgers continues to be one of the premier quarterbacks in the NFL and he is a no-brainer to start for any team you have in Madden . There are a few elite QB's in football and Aaron Rodgers is one of them.
Taylor Gabriel, WR, Atlanta Falcons (up 2 points to 78 Overall)
The Falcons found a breakout receiver in Gabriel, the former undrafted rookie from Abilene Christian. Gabriel finished the 2016 season with 35 catches, 579 yards and three touchdowns for the NFC South champion Falcons, which received a first-round bye in the playoffs.
Gabriel saw his catching ratings go up by points, his spectacular catch ratings go up two points and his route release rating up two points. Within Madden Ultimate Team, Gabriel could be used as a slot receiver for your team and someone that could be a deep threat with his tremendous speed and agility. Another reason to pick up Gabriel would be his 82 rating in the kick return game, which could give your team a different dimension with improved special teams play. Taylor Gabriel is a sleeper for your Madden squad that's worth taking a chance on.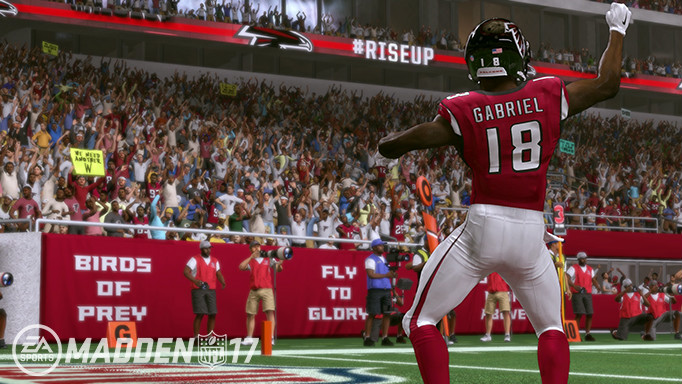 Adrian Peterson, RB, Minnesota Vikings (down 2 points to 87 Overall)
Peterson's season has been marred by a knee injury that saw him miss almost the entire season. With Peterson being a high-paid player on the Minnesota roster and the fact that he is 31 years old makes Peterson a possible salary cap casualty for the Vikings this offseason. In just two games this season Peterson accumulated 50 yards on 31 carries while sitting out Minnesota 's final game of the regular season.
Due to Peterson's injuries this season, a Madden rating decrease was bound to happen and it did. In addition to seeing his overall rating fall, Peterson's awareness dropped four points to 90, elusiveness fall three points to 86 and his ball carrier vision drop three points to 90. Is Adrian Peterson a number one running back in the NFL? Yes, he is and Peterson should be considered a must-start player if you pick him up in Ultimate Team. While real-life Adrian Peterson may be on his way out of Minnesota , he is worth a spot on your team at all costs.