Most Neglected Operations in Madden Mobile 18
After a brief introduction of basic gameplay styles and operations of
Madden Mobile
, noobs must have a oblivious recognition upon this app, but still confused about the specific rules and gameplay strategy of it, especially for those who wants to know the sport but still have no time to practice on pitch. In this case, this essay will tell you the basic rules and gameplay & operation knowledges for you to master the game and American football as well. This guide will be proceeded in an orderly way and step by step explain the methods from the shallower to the deeper difficulty.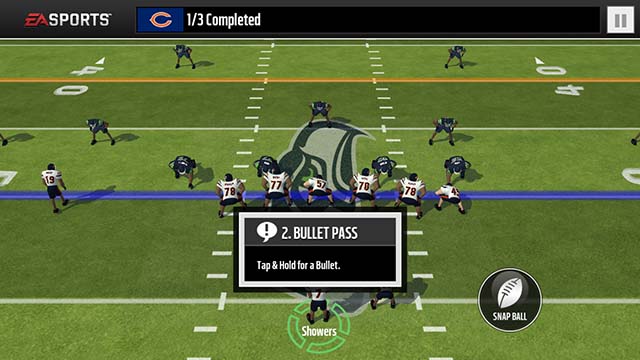 Things will be much more easier if you've played Madden 17 or older versions or merely FIFA, NBA Live, WWE, or any other EA Sports video games. You will be familiar with the menu screen and functional widgets and processing manner. Perhaps you're new here and want to learn how to let your team in game performs as broadcasts shown. No matter whether you are veteran for football or just a zealot audience or just want to join friends game circle, we are here to give a hand to you.
Basic Operation
At the very beginning of the game, there is a tutorial, in which mentioned a special operation that's very useful and important is Bullet Pass. To initial Bullet Pass is easy but if you skip this tutorial you may get lost here. When you want to pass the ball to your wide receiver near you, but don't want to upthrow it, you need to direct pass it. But your quarter back finally cast a lob that miss you from a great offensive chance. In order to perform the Bullet Pass, just tap and hold on the pass button. Sometimes the strength and accuracy are incorrect so receiver may miss the pass.
+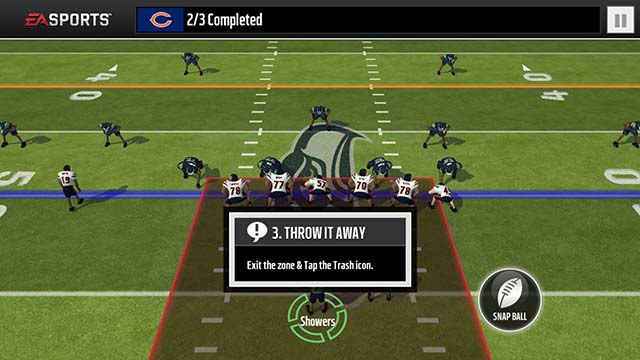 Most Neglected Operation
If you like to watch football match broadcasts, you must have seen quarterback throw ball sideline to reduce yard loss. But you may find it's impossible to do this in the game, why? If you want to throw the ball away, you need to run away from the red line district marked in the picture below. This district is invisible in game but in tutorial. So review the tutorial one again, you can learn more. Once you run out of the red district, just press the rubbish can button lower right corner to perform the throw ball action.
When you are in defense, opponent's quarterback long pass the ball to remote wide receiver, and you want to switch the screen to your cornerback but unsuccessfully. The resolution is just hold the direction button on and the system will automatically switch your camera to your near cornerback or safer. But I still consider let CPU controlling the cornerback is faster than manual operation.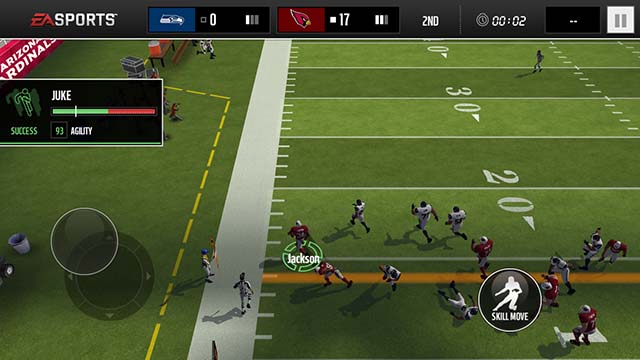 Running backs' rushing is one of the most conspicuous part of American football, just like spin shot in NBA. Those moves are based on player's stats, the juke ability is depend on player's agility. To perform truck, just swipe up the screen from any point when facing a tackler, this action needs high trucking attribute. When facing defenders, swipe right or left the screen will let you do the correspondent direction of juke moving.
When you are closed to opponent defenders, press and hold on skill move button, your running back will do spin moves, this also depend on your spin moving value. When you achieve those skill moves, system will inform you of a congratulation.
This is today's basic operation guide of Madden Mobile, please keep following us to get the most useful Madden Mobile guides and
Madden Mobile Coins
! If you have any good ideas of suggestions for our website or products or news, please let us know in feedback or contact our online support service directly. We wish you a nice game.