Madden NFL 15 gives players new objectives to help focus on progressing
There are three things guaranteed in life: death, taxes and the newest Madden coming out at the end of summer. Just released in the 26th and latest installment of the franchise is Madden NFL 15. Currently the game is only available on the big four platforms (PS3, PS4, Xbox 360 and Xbox One). As always, the game was developed by EA using their next gen gaming engine, Ignite, which makes the graphic details look just amazing. The cover features defensive back of the Seattle Seahawks, Richard Sherman. Having a defensive player on the cover is a statement that this latest edition of Madden is going to have some big changes to the game, mainly defensively.
Upon first launching the game you are thrown into a GMC Never Say Never Moment. These moments will be situations that have arisen during the season and have you try to change the outcome and alter history. The opening moment you jump into, which EA calls its First Interactive Experience and happens while the game is installing to your PS4 or Xbox One,, will throw you into a late game scenario between the Seahawks and the Panthers. It's a great way to be introduced to this newest edition of Madden and fans of the series will see quite a few changes. First and foremost you'll notice the improved and jaw dropping graphics. This is what a next gen sports game should look like on next gen. Cam Newton looks just like Cam Newton and cover athlete Richard Sherman looks just like himself. Player animations are smooth and life-like and not the stiff and almost plastic looking fellas of the past. It's obvious that EA took their time to create the player models and the end result is fantastic.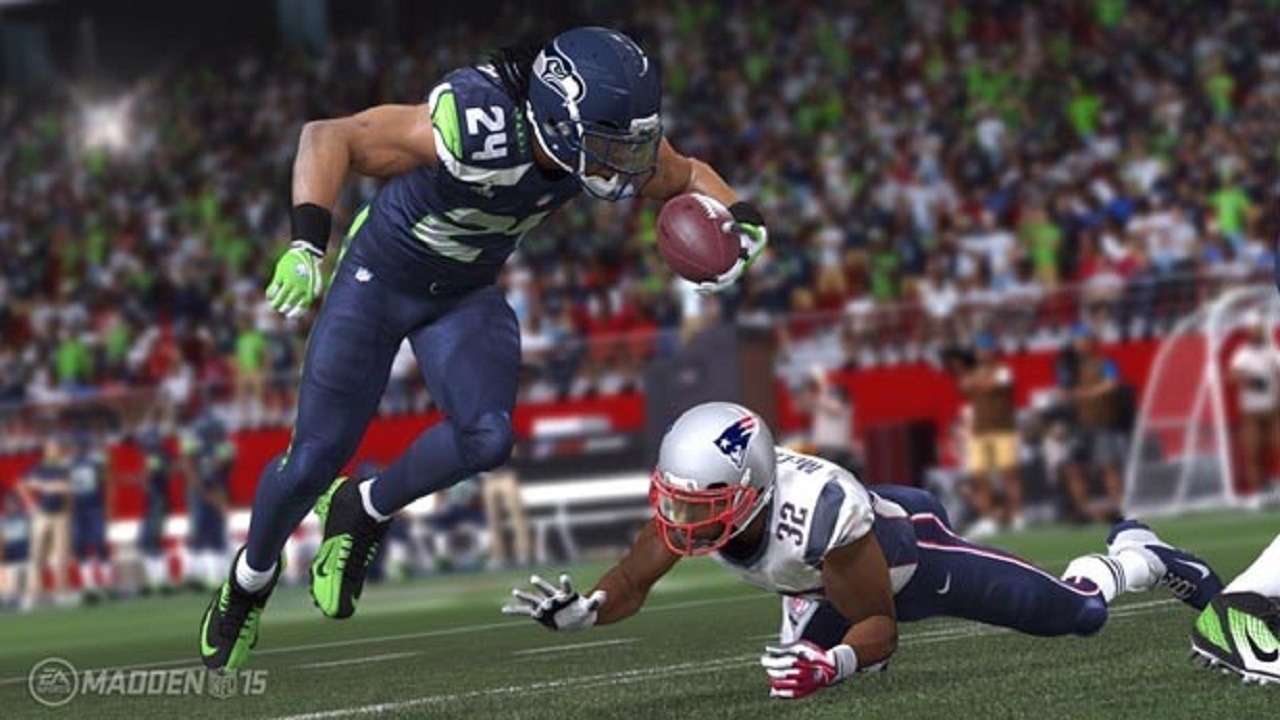 I was one of the many customers that purchased not one, but several six hour access blocks from the EA Access program. About half way through my second block of access, it became very apparent why they chose to limit early access to six hours of gameplay. At the end of the first six hours I was still under the impression that the game was amazing, defense was truly improved, and we were slated for our best Madden season in years. At about hour 8-10 however during the middle of the second block, it hit me like a shovel in the face, the game is terrible. It is buggy to no end, defense isn't really improved because the offense is just stupid, and the game has been engineered to become a pick up and play type of game.
There aren't as many improvements on offensive as there are on defense, but they are as readily apparent. Most of them are in the area of play calling. In addition to previous ways of organizing plays, there are Coach's Suggestions and Strategy. These play calling menus now tell you why the play is an appropriate choice. This is a fantastic addition to the game because it teaches you actual football strategies. This all goes a long way in aiding EA's goal of making Madden NFL 15 the most realistic football sim on the market, and they're widely successful. Games are much better paced and the slightly more zoomed in offensive camera feels much more intimate and let's you get closer to the action. Even the play call system has been given a overhaul, making it make more sense and dialing you into the Madden community at the same time. Not sure what to call? The play-call screen shows you what other Madden players have called in the situation and how successful its been. Madden NFL 15 goes a long way to not only give you the game of football but show new players why they're making the plays that they are.
Madden Ultimate Team, the popular deck-building, Fantasy Football-esque mode from the past several years, makes its return. While the mode is largely the same as last year, where players work to build up a deck of an ever-improving roster, Madden NFL 15 gives players new objectives to help focus on progressing, as well as a better set of organizational tools to help them choose the best players to put on their team. This year also sees the return of the popular Connected Careers mode, which brings with it the trademark way to play together using the modes formerly known as Owner, Franchise, and Superstar. As with last year, these Careers can be online or offline, and multiple different characters can be created and controlled in parallel careers. This year, the Connected Career adds in a new "Confidence" attribute, which will tell you how sure of themselves players are. Confident players perform better, so working with downtrodden players during the new Game Prep options to up their confidence before that week's game is essential to getting the best out of them.