Madden NFL 15 advances the game's visual presentation significantly
Even if you never go beyond the Play Now mode in Madden NFL 15, the mechanical improvements on offense and defense make Madden NFL 15 worth a look--as do the impressive visuals. Muscles bulge and beads of sweat spray across the turf as you drive against the opposition, and unlike in previous games, the athletes of Madden NFL 15 are highly distinctive. Individual player quirks, like Johnny Manziel's slippery, sporadic rushing style, are much more pronounced, and the crowds are not nearly as static as in previous years. It's a technically stunning game, and the increased attention to detail--such as Packers fans bellowing John Kuhn's last name as he makes big plays--goes a long way toward making this a real Madden NFL experience.
It's good stuff, bringing the thrill of a well-executed sack that Madden previously left to chance and discouraging you from simulating to the next time you have the ball. Still, offence is still where you'll have most of your fun and the improved play-calling and interpretation help things along. There's a fine art to the way the camera sweeps, pass options stand out and play diagrams are projected onto the field. The visual feedback brings a strange rush, like you are in the head of your quarterback and picking out the right pass, or then skipping through the field with your receiver is a real thrill. On the flip-side,
Madden NFL 15
isn't the most stringent of simulations and there are irritations that come from its focus on speed and brawn. Quarterbacks, in particular, do not have the manoeuvrability of their real-life counterparts. Watch the best Madden NFL playmakers and you'll see them skipping tackles and dipping out of the pocket to find the space to pass, whereas here they are more leaden-footed than you'd like. This is exacerbated somewhat by the fact that tackles hardly ever miss. Taken as a whole, this often ends with games being rather low-scoring affairs in comparison to reality.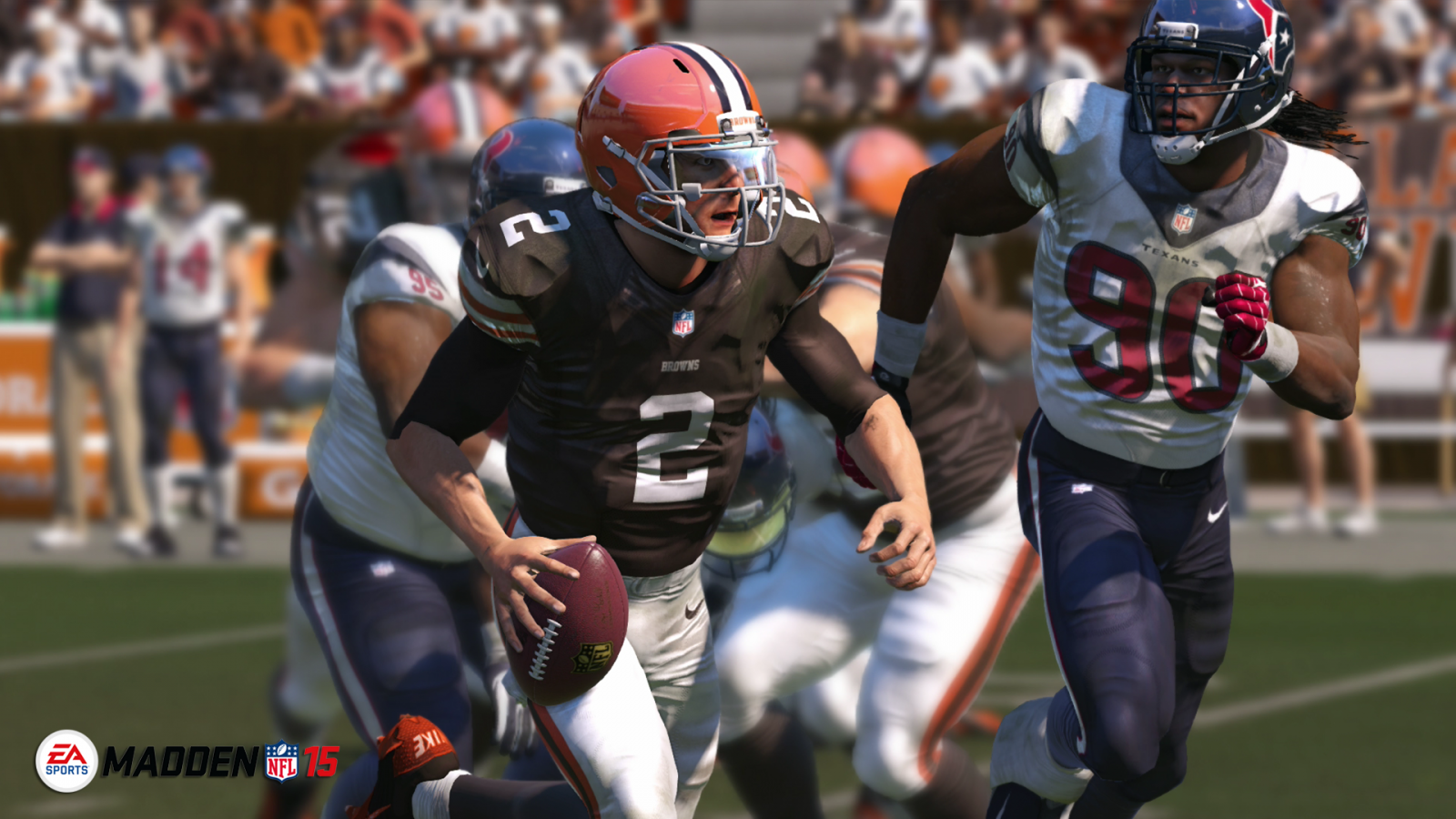 When I jump offsides, I don't need (or want) to see my player look grumpy for 7 seconds, and then the coach look angry for 5 seconds, and then the referee do stupid hand gestures for 13 seconds, and then the two possible results of the penalty for 6 seconds, and then an opposing coach look happy for 3 seconds, and then be asked to call another play. I just want to play a football game. Don't even show me replays. There's an Instant Replay feature if I want to see something again. Don't make me mash the X button and stare bug-eyed at whomever's in the room with me for 30 seconds until the stupid halftime pageantry is over.
Given how glaringly obvious the dominance of speed has been for so many years in Madden NFL games, you would have thought the design team would have fixed it by now. Clearly, they don't want to. This comes back to that intro; this is very much a game aimed at those looking for the thrill of gameday. It's not a simulator and it's not aimed at the American football elitist - not that there is an alternative game to turn to. That's not to say that horizons haven't been broadened since last year's confusingly titled and stagnantly designed Madden NFL 25. Undoubtedly, Madden NFL 15 is a superior prospect and in many ways is the game we should have been offered last season, given the opportunities then first presented by the Xbox One and PS4 hardware.
That last point has more to do with graphics than gameplay, but those kinds of graphical issues stand out a good bit more now that the series has planted itself firmly on the new generation of consoles. Last year's game on Xbox One and PS4 was just a minor upgrade from the 360 and PS3 versions, but Madden NFL 15 advances the game's visual presentation significantly. Stadiums, crowds, and sidelines have never looked better, and the action on the field generally looks excellent. You may see some weirdness with marquee players and coaches not quite looking like their counterparts--which is to say nothing of the haunting looking representations of Jim Nantz and Phil Simms that pop up at the beginning of each game--but this year's player models are nonetheless a huge improvement. Of course, with that increased detail, issues like physics glitches and hiccups in tackling animations tend to stand out all the more.
Visually, this is easily the most impressive Madden NFL title we've ever seen. The on field game looks amazing, and a lot of the canned cut scenes have been removed in favor of immediate replays of actual on-field action. We even have realistic tattoos on a player for the first time, which is nice.