EA compiled a number of actual NFL players and took face and body scans
On these shores, the appeal of Madden NFL 15 bearing the legendary Oakland coach's name has always extended beyond the sport it represents: it was a bona fide 16-bit classic to rank alongside NBA Jam and International Superstar Soccer. So can its second outing on new-gen
Madden NFL 15
satisfy both noobs and extremists alike, as it did in these golden Sega days? That's where we come in. The first key change of Madden NFL 15 is that you can now switch the camera angle to behind the defense, instead of always having it behind the offense. It's now more organic (and fun) to try and shut down the offense. Of course, there is also an added level of difficulty as it relies on you actually reading the play. I was playing as the Green Bay Packers last night, and misread my gap assignment with Brad Jones, allowing Ryan Mathews to break free for a 12-yard gain.
It felt just like Sundays (mostly because Jones was out of place). Each position across the defense (linemen, linebackers, defensive backs) has different moves they can employ that make the game feel more like Sundays. The new camera angle and control of the defense also makes it easier to make the transition from a lineman to a defensive back, which was a great relief to me. Nothing was more maddening than being a split second from a sack, only to switch to the defensive back and have him still be running downfield as if he was chasing the quarterback, leaving his wide receiver all alone. Interceptions aren't a walk in the park, but the act of getting in position for one is more fluid and addicting. All in all, these defensive additions of Madden NFL 15 are a game-changer, and something I hope EA Sports builds on in the future. The only downside is that you can't take on this new angle when you're playing a buddy locally (on the same system), but then again, those matches are never about defense anyway, are they?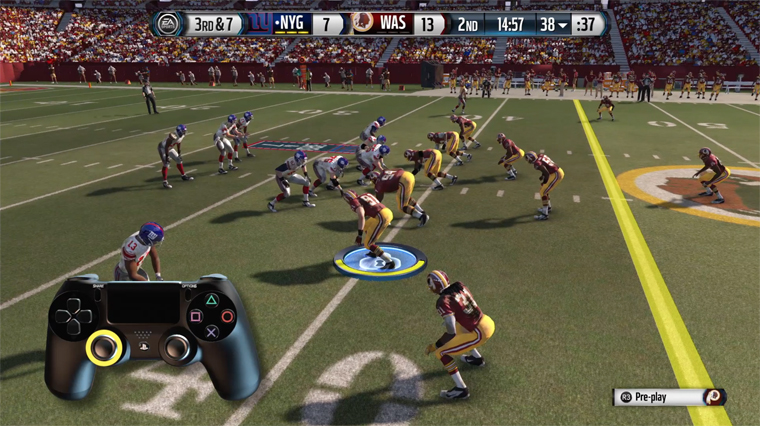 As good as all those changes in Madden NFL 15 are, they don't make playing defense a perfect experience. Playing in the secondary still often feels like a crapshoot, for instance. The reverse camera doesn't feel as effective when controlling a defensive back, and I still feel like I'm a liability any time I assume control of one. I did find myself pulling off a few more interceptions than I have in the past, but I can't attribute that to anything specific to this year's game. If anything, INTs are just as prevalent (or over-prevalent, depending on your opinion) as they've ever been. Hitting and tackling still has its issues as well. While I appreciate this year's control alterations--conservative and aggressive tackles have been assigned to separate buttons, and now you can square up defenders by holding down the LT/L2 button--tackles still result in a lot of strange, often awkward-looking hits.
The biggest surprise to me in Madden NFL 15 was the addition of the Gauntlet, that being a series of rapid fire mini-games based around football skills broken up with boss levels. No, that's not a typo, we now have boss levels in a sports game and they're absolutely brilliant. Kicking a 115 yard field goal in hurricane strength winds, or having to dodge an entire team's worth of defenders while your offensive line plows a path is an amazing feeling. My only real complaint is that there's no way to simply replay boss levels outside of running the Gauntlet again, and I need more of this in my life. Some of this might just be leftover wonkiness from the implementation of the Infinity Engine, and it's not nearly as bad as it's been in the past. Remember a couple of years ago when players were literally tripping over each other at the end of practically every play? Yeah, it's not that bad. Still, it's odd to watch players' limbs bend and contort in inhuman ways any time they bump into one another. It's similarly disconcerting to watch players often go functionally limp when they collide, as if someone had just unplugged them from The Matrix.
Surrounding the play on the field are the lights and sounds of Madden NFL 15. Presentation is at an all-time high. EA compiled a number of actual NFL players and took face and body scans in order to have the authentic look of real players. Stadium designs look fantastic, and halftime shows give detailed notes to the game you have been playing. It's all about that HD experience. On top of that, the online modes so far look satisfactory and play smoothly enough.